What we do
We recreate the magical cuisine from the palaces of Hyderabad's nizams and bring it to your doorstep. Hyderabadi cuisine is perhaps the most cosmopolitan in India. Evolved over a long time, it has assimilated tastes and cultures of different communities that lived in Hyderabad such as the Mughals, Persians, Telugus, Turks, Parsis, Asaf Jahis, Qutub Shahis, etc. The resulting cuisine has the elegance of the North and pluckiness of the South. It is this rich heritage that we chose to bring to rest of the country when we began operations in 2005. We have painstakingly researched and reproduced original recipes for biryanis, kormas, bhunas and several other Hyderabadi delicacies that are now used mostly for special occasions, as they are too cumbersome for daily cooking at home. Our key recipes, some of them using over 40 ingredients, are a closely guarded secret, handed down over generations. In the olden days, it was only the nobility that could afford biryanis but now mouthwatering Hyderabadi preparations are in your neighbourhood or just a phone call away. Drop in or call us and enjoy a feast fit for kings in the comfort of your own home!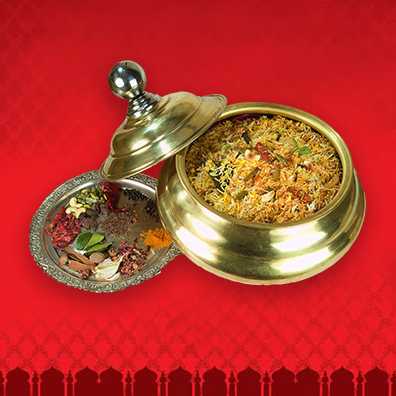 Quality
Our aim is to recreate the cuisine of Hyderabad's glorious past and in the process we treat our customers like the nizams themselves. No expense in spared on getting the freshest and choicest ingredients that are hand-picked every day. We use the finest quality fragrant, long grain basmati rice; our oils are healthy and branded; and our spices are freshly ground in-house. We maintain stringent standards of hygiene in production, distribution and delivery to ensure our customers get lip-smacking but safe and healthy products.
People
Viva Hyderabad is the brainchild of Suchandra Juneja. Suchandra is a BA (Hons) in Economics from Jadavpur University and has a Masters in International Business from IIFT New Delhi. In her travels around the globe during the 12 odd years she spent in the corporate world, Suchandra's after-work priority would be to sample the local cuisine over sightseeing, for which there would be limited time anyway. A few years back, this hopeless foodie decided to chuck it all up and marry her management expertise with a passion for food and founded Viva Hyderabad. Suchandra is supported by a team of experienced professionals each of who have over a decade of experience in production, catering, hospitality and marketing.